Funny Jokes for Kids
Funny Kid Jokes
Ek bachey ko samjh nhi aa rha tha ke chutti ke liye kya azar pesh kare. Akhir us ne ustaad se darkhast ki !
"Muje apne dada ke shaki ke liye chutti chahye."
Ustaad ne pucha: "wo is umar ma shadi kyu kar rhe hain?"
Larkey ne kaha: "Sir! wo to nahi kar rhe. Main zabrdasti karwa rha hu."

Kids Jokes in Urdu
Baap (Betey se): "Agar tum is baar imtehan ma fail ho gaye to muje dady mat bulana."
Kuch dino baad………………………
Baap (Betey se): "Kesa raha tumhara result?"
Beta: "Sorry, basheer sahib!!"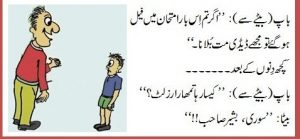 Jokes for Kids
Bacha: Apni maa se pitney ke baad apne papa se:
Papa ap ne kaala jadoo seekha hua ha kya?
Papa: Nahi to
Bacha: To phir asi zaalim bala kese pakri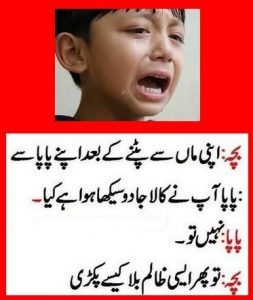 Kids Jokes
Munno miyan ek roz bare khush khush sakool se wapis aye or boley.
"Mummy! main class ka sab se acha bacha hun."
"Boht khoob". Ammi ne khush hote huwe kaha.
"Kya ye baat tumhen teacher ne btai ha?"
"Nahi mummy! main ne khud hi andaza lagaya ha."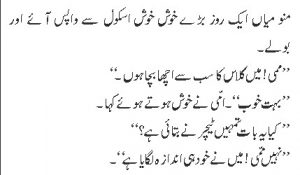 Urdu Kids Jokes
Principal: Late kyun aye ho? Tumhare sab dost to waqat per aye hain.
Student: Group bana kar to kuttey atey hain sir! sher to akela hi ata ha.
Principal: Chal mera sher puttar hun jaldi kukkar ban ja.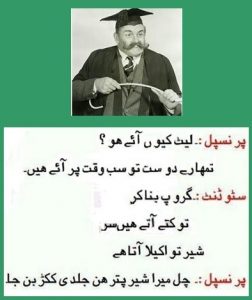 Clean Jokes for Kids
Ek bacha gali ma khel raha tha. Samne wale makaan se ek kutta nikla
or is ke paon chatne laga. Bacha rota hua ghar aya.
Maa ne pucha: "Ro kyun rahe ho? kahen parosi ke kuttey ne to kaat nahi liya?"
Bacha bola: "Abhi to chakh kar gya ha. Kaatney to kal aye ga."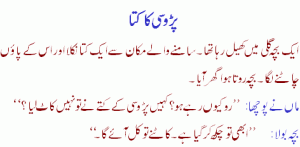 Jokes for Kids to Tell
Bachey ne bari masoomiyat se apne baap se Kaha: "Abu! aap to kehte the ammi nahayt fazool kharch hain."
Baap ne taajub se pucha: "Lakin tumhen in ki kafayet shaari ka ilam kese hua?"
Bache be pehli si masoomiyat se jawab diya: "Kal in ki chaalisven (40) salgira thi lakin unho ne cake per sirf ikees (21) mom batiyan roshan ki thi."

Good Jokes for Kids
Larka: "Abu! agar aap ko pata chale ke main first aa gya hu to aap kya karen ge?"
Baap:"Main khushi se pagal ho jaun ga."
Larka: "Khayen qasam!"
Baap: "By God ki qasam."
Larka: "Bas Abu ji! sirf isi dar se ma fail ho gya hu."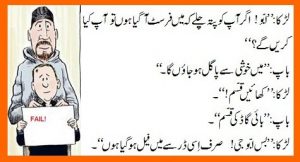 Children Jokes
Bacha: Anti! Ami ne cheeni magwai ha.
Anti: Cheeni dete huwe…….or ami kya keh rhi thi?
Bacha: Ami keh rhi thi agar ye kamini na de to sath wale ghar se pata kar lena…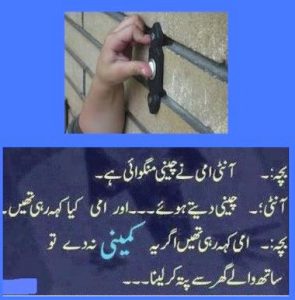 Childrens Jokes
Murghi ka kawwey se rishta ho gaya.
Jab murghey ko pata chala to wo murghi ke paas gya or bola: "Meri awaz purey shehar ma ghoonjti ha, murghon ki union ka president bi hun."
Mughi boli: "Main tumhare jazbaat ki qadar karti hun lakin ami abu ki ye khwahish ha ke larka air force ma ho…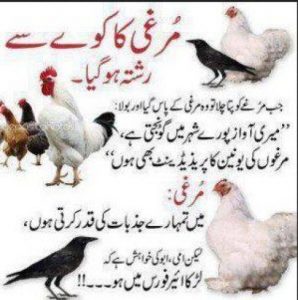 Jokes for Children
Ek bacha rota hua maa ke pas aya. Maa ne rone ki waja puchi to bache ne kaha: "Aba jan deewar ma keel gaarh rahe the to un ke hath per hathori lag gai."
Maa boli: "Beta! bahadar bache zara si baat per nhi rotey. tumhen to hansna chahye tha."
Bache ne kaha: "Ami hansa hi to tha."