Funny Sardar Jokes
Sardar jokes ki dunya ka ek zabrdast character ha. Puri dunya ma funny sardar jokes boht mashhoor hain or log inko bohat mazey se parte hain. Is page pe apko best sardar jokes milen ge. Ye tamam latifay boht zabardast hain or ap sab log inko parh kar hans hans kar pagal ho jayen ge. In jokes ma mukhtalif kisam ke funny jokes hain. Misaal ke tor pe ek sardar jis bi jaga ki sair karta ha to wahan per uske sath kya kya waqeyat roonma hote hain or wo kis tarha ek funny waqeyat ban jate hain. Ye sab apko yahan per mukhtlif urdu latifon ki shakal ma mile ga. Agar ap ek asi website ki talash ma hain jahan per ap ko sardaron ke ache latifey milen to ye website apke liye boht zabardast ha. yahan pe jitne bi latifay hain sab boht funny hain or visitors ka dil behlane ke liye boht ache hain. Is page pe jitne bi latifay hain ye sab urdu palace ki team ne khud takhleeq kiye hain or kahen se copy nhi kiye gaye. ye sab genuine jokes hain or ap ko kisi or website pe asey ache or hansa hansa kar loot poot kar dene wale jokes nhi milen ge. Agar apka mood off ha or apka dil kar rha ha ke ap koi ache se latifay parh kar apna mood thek kar len to ye page apke liye boht hi zabardast ha or ye urdu latifay parhne ke baad apka dil khush ho jaye ga. Is liye ap sab in latifon ko enjoy karen or hamen is ke bare ma apni qeemti raye se agah karen.
Sardar Latifay
30 sardar ek behri jahaaz ma ja rahe the.
Jahaaz dooba bi nahi lakin sab mar gaye, bhala kese?
Jahaaz samundar ma kharab ho ke ruk gya tha, sab dhaka lagane ke liye utr gaye.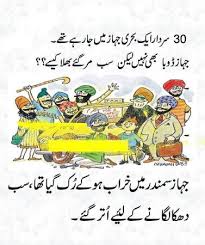 Funny Sardar Latifay
Santa banta jungle ma ja rahe the. smane sher aa gya.
Santa ne mitti uthai or sher ki aankh ma daal kar bhagne laga.
Banta wahen khara raha.
Santa: Abhey bhaag!
Banta: Main kyun bhagun? mitti tu ne dali ha.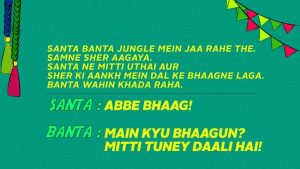 Funny Sardar Jokes
Ek miss ko apne shagird se pyar ho gaya.
Miss ne usey message kiya: "I miss you".
Sardar ne kafi der sochne ke baad reply kiya ke: "I student you."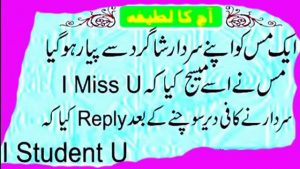 Very Funny Sardar Jokes
Sardar ji ka beta: "Baapu idhar aa ja."
Sardarni: "Putar! baapu nu izat naal bulai da aey."
Beta: "We baapu! izat naal edhar mar."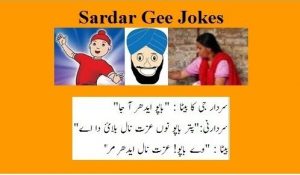 Punjabi Jokes
Ek chor sardar ji ne apni mangetar ko soney ka haar la kar diya.
Magetar: "Jan! is haar ki bhala qeemat kya ho gi?"
Sardar ji: "Sirf teen saal qaid, te be shumar litar."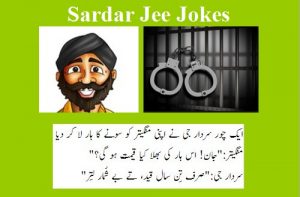 Very Funny Punjabi Jokes
Sardar: Bachpan wich maa di gal suni hondi te aj ay din na wekhna penda.
Judge: Kya kehti thi maa?
Sardar: Paa ji, jadon gal hi nai suni te fer ki dasna…..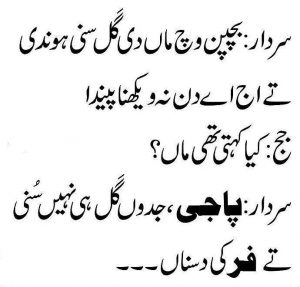 Funny Sardar Jokes
Ek sardar kafi der se door khari larki ko ghoor raha tha.
Tang aa kar larki ne hath se lanat ka ishara kiya.
Sardar ne dost ko kohni maar kar kha: "Le aj fer panj waje da time fix hoya ay."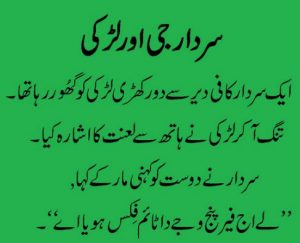 Most Funny Sardar Jokes
Sardar darakht se ulta latka hua tha.
Kisi ne pucha ke kya hua?
Sardar: Yar sir dard ki goli khai ha kahen pait ma na chali jaye.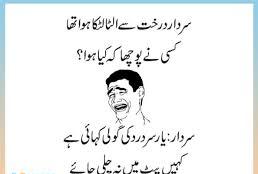 Jokes in Punjabi
Sardar ki cycle ek larki se ja takrai.
Larki: We anneya, brake nai mar skda si?
Sardar: Sohneyo! puri cycle te mar diti ay, haley ve naraz o.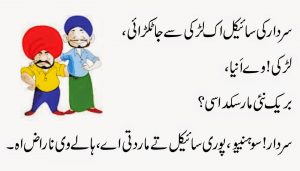 Funny Jokes in Punjabi
Ek sardar jalebain bech raha tha or awaz laga rha tha, aloo le lo, aloo le lo….
Ek admi ne pucha: sardar ji ye to jalebian hain.
Sardar: Chup ho jao, warna makkhiyan aa jayen gi…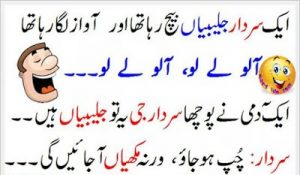 Santa Banta Jokes
Sardar: Ye tum kesi maachis laye ho, ek bi teeli nahi jal rhi?
Beta: Kya bat karte ho aba! ek ek teeli check kar ke laya hu sab jal rahi thi.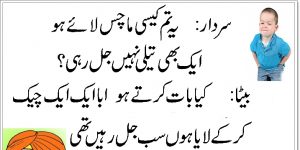 Very Funny Santa Banta Jokes
Ek sikh motory cycle per bari market ke road se guzar rha tha, qareeb se atey se lada hua ek truck guzra, tez hawa ke baais aatey ki boriyon se gard or bhosi urney lagi.
Sikh ne apni dono ankhen band kar li, ye soch kar ke kahen ye bhoosi ankhon ma na chali jaye.
Jab sikh ki aankh khuli to wo hospital ma tha.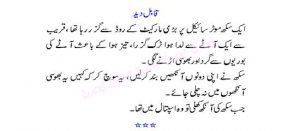 Funny Santa Banta Jokes
Sardar ne ek bachey ko aghwa kiya or ek chit pe likha, 50 lakh rupey kal subha tak pul ke neeche rakh do. Phir ye chit bachey per chispan kar ke bache ko ghar wapis bhej diya…!
Dusrey roz sardar pul ke neeche gya to wahan 50 lakh rupey mojood the or sath hi ek chit thi jis pe likha tha…..pesey ka afsos nahi, afsos to bs ye ha ke sardar ne sardar ko loota.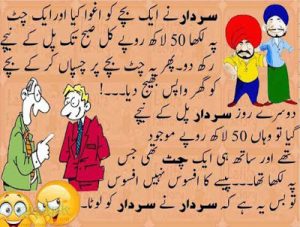 Most Funny Santa Banta Jokes
Teacher sardar se: "Thand" ko jumley ma istemal karo.
Sardar: Tusi saano sabaq parha ditta, sadey palley pawey na pawey, tawanu te thand pe gai ay na.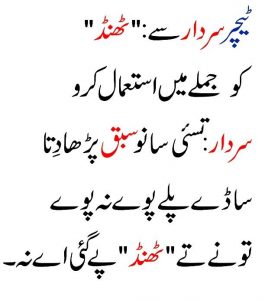 Sikh Jokes
Sardar ki biwi bhaag gaye.
Teen din baad wapis aye.
Sardar gusey se bola: Hun ki len aai ay.
Sardarni: Mobile da charger bhul gai si.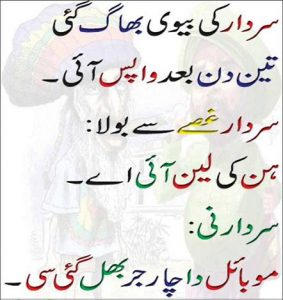 Funny Sikh Jokes
Doctor: Hum mazrat khwa hain, operation ke waqt rubber ka dastana ap ke pait ma reh gya ha is liye dobara operation karna pare ga.
Sardar Tu pagal to nahi ha? ye pakar 30 rupey or baazar se dusra dastana le aa.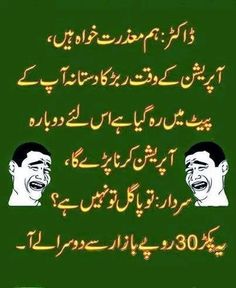 Jokes of Sardar
Ek behri jahaz doob rha tha.
Angrez: Yahan se zameen kitni door ha?
Sardar ji: Ek kilometer
Angrez ne samundar ma jump laga kar pucha: Kis taraf?
Sardar: Thaley nu, thaley nu.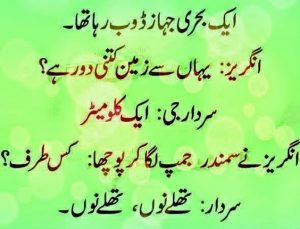 Funny Jokes of Sardar
Doctor ke band clinic ke bahir lambi qitaar lagi thi.
Ek sardar bar bar line ma ghusta, log us ko pakar kar peeche dhakeel detey.
Sardar: Lage raho bhaiyo! main vi clinic nai kholna!!!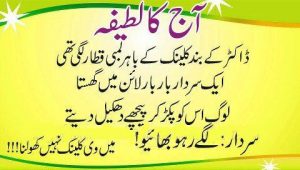 Sardar SMS Jokes
Sardar ko ek number boht tang kar rha tha.
Sardar ne nai sim li or us number pe fune kar ke bola: "Kaminey wo number ma ne band kar diya ab tera baap bi tang nahi kar paye ga."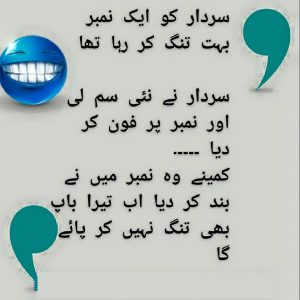 Funny Sardar SMS Jokes
Sardar ne cycle chalate huye ek aadmi ko takar mar di.
Sardar: "Gusa na karo pa ji! aap boht khush qismat ho.
Aadmi: wo kese?
Sardar: Aaj meri chutti ha warna ma truck chalata hun.